This morning I had a number of friends point out an SFGate blog post that included a photo I took of a pair of MUNI transfers from a few years ago. Little did I know this would be the Nth time I would get annoyed by an entity on the internet. At first I was generically flattered by the whole thing, photo of mine, on a largish site, wow! Maybe I should check to see if my servers can handle the load from the link back. The post itself is about what makes you a San Franciscican, and also talking about how the last time they did a post like this they had of negative responses to the word usage of "Frisco".
After actually finding the post and where my photo was in it, all of my dreams of how I've just hit the big time and am totally making a name for myself as a street photography among the millions of other street photographers also trying to make a name for themselves here in San Francisco, came to a crashing, sobbing, forum trolled end. Why? Because groups of people backed behind the blurred name of a larger company typically don't respect licensing and copyrights of individuals on the internet.
My photos are available online through the Attribution-NonCommercial-ShareAlike Creative Commons License. I do this because it allows me to share my works for others to come by and use in whatever they want to noncommercially. And sharing is caring right? If you're unfamiliar with the various kinds of Creative Commons, the license is broken down like this…
Free to remix and edit the work
Free to share, copy, repost the work elsewhere
If the work is shared elsewhere, edited or not, the editing/reposting author must give attribution back to me
The work may not be used in any sort of commercial capacity
The same Creative Commons license must be used when reposting the work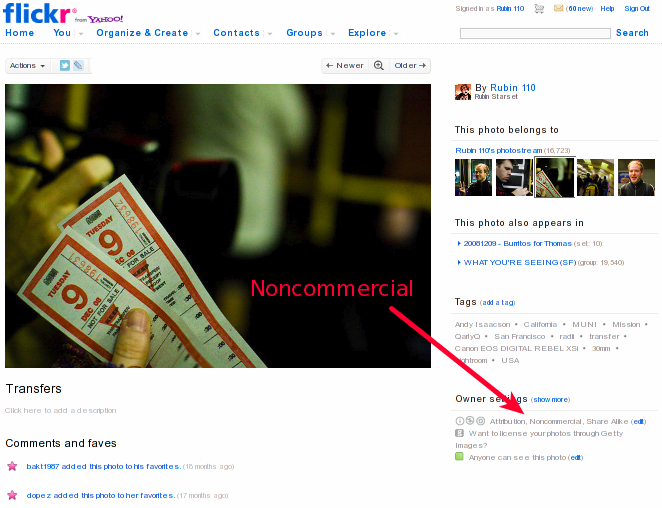 SFGate is a commercial company, with ads all over their site, that page in particular is features ads for AT&T and some car insurance (I despise AT&T and would like to see less cars in my city). Within the terms of the Creative Commons license SFGate isn't allowed to use my photo, they can however contact me and ask for some kind of permission, to which I would respond back with, "Sure, buy me dinner," and they would tell me to piss off by simply not responding, and I live a happier life knowing my work isn't on a commercial site where they don't want to share any of their revenue with me. In sort my photos aren't published from commercial use without prior permission and a worded out waver.
Additionally as part of the Creative Commons if attribution is required and instructions on how that should be displayed aren't attached along with the item, the party wanting to use it must ask how so and get a response back from the owner of the work before actually posting it anywhere, SFGate completely failed at that. They did provide my Flickr name, no linkage back and the title of the original work is missing, so if someone wanted to find the original copy they would have an crappy hard time doing so.
On top of all of it they didn't republish my work with the same license, which is also required. At the bottom of the SFGate page you'll however find a link and some text: © 2011 Hearst Communications Inc.
Material published on The SF Gate online service is copyrighted by Hearst Communications Inc. or its licensors, including the originating wire services. Such material is protected by U.S. and international copyright laws and treaties. All rights reserved.

Users of the SF Gate online service may not reproduce, republish or redistribute material found on the web site in any form without the express written consent of the copyright holder.
So my photograph is either now under the copyrighted work of Hearst Communications Inc, or it's still mine but you really can't tell because they're not providing any specific information on how to find the original copy or even how to contact me. Additionally Hearst Communications Inc has altered the terms of my license to the point where others can no longer use it within the capacity of my original Creative Commons license, which is exactly what I don't want.
What's going to happen next? Possibly SFGate isn't going to care after they read the annoying email I've sent them asking why they feel ripping off other people's (not other company's) work is OK in their book. I could do the same to them by scraping their site and republishing their content somewhere else on the internet, possibly with a little twist, hurm…
Lastly, what the shit, MUNI doesn't punch transfers. Are these people even from San Francisco?
Update 20120405 113346 – Looks like my little troll rage is slowly making its rounds. As of this morning the SFGate blog post no longer has my photo in their slideshow rotation, also missing are 2 other photos (suppose I'm not the only one to get their panties in a twist). Sadly no email back from them with an answer as to why they thought it was ok to count Creative Commons as free domain. I imagine they're attempting to word out the most politest cease and desist email right now, scented stationary and all.